Bang & Olufsen – Die Geschichte
Bang & Olufsen steht seit nun fast 100 Jahren für exklusive Designs, hochwertige Verarbeitung und für ein hervorragendes Klangerlebnis. Die dänische Marke wurde 1925 von Peter Bang und Sven Olufsen gegründet.
Die ersten entwickelten Produkte waren Radios, die anders als die bislang gebräuchlichen, auch an das Stromnetz angeschlossen werden konnten. Der sogenannte Beolit 39 war auch das erste Gerät des Hauses Bang & Olufsen, welches den heute typischen Namensbaustein "Beo…" in sich trug.
The development of the company
From the turn of the millennium, Bang & Olufsen then included a range of products in your assortment, which makes them to this day the prestigious brand that they are: The Beolab active speakers. In the meantime, however, almost the entire world of consumer electronics belongs to the portfolio of the Danes. From the classic turntable, to compact hi-fi systems, to the just mentioned Beolab active speakers, to televisions, to in-ear and over-ear headphones in a class of their own.
Headphones of the special kind
Bang & Olufsen has long collaborated with various partners to create new yet timeless designs.
Whether as a complement to your home cinema, as a fine technical complement to your work from the home office, or even for gaming: Bang & Olufsen delivers a listening experience with style in longevity. Discover Bang & Olufsen headphones now.
Here you will find a selection of Bang & Olufsen headphones in our store
Bang & Olufsen Beolab 18
Let the sound carry you
Ensure optimized sound with Beolab speakers and introduce your home cinema outside your living room. Explore your many options and find out why Bang & Olufsen home cinema are not just for movies.
CABLE – and flawless performance
Discover the unadulterated pleasure of Bang & Olufsen wireless sound. The speaker requires only a single power cable, opening up incredible possibilities to unleash the joy of wireless multi-channel audio enjoyment in your home.
A poetic expression of pure sound pleasure
The aluminum column seems to balance on its pointed base in an almost magical way, while the handmade wooden slats distribute the sounds in the room in harmony with the acoustic lens placed on the top of the speaker. Experience design and engineering in perfect harmony.
Even sound wherever you are
Acoustic lenses distribute the high frequencies in a horizontal fan throughout the room to create a particularly large listening area and avoid reflections from the floor and ceiling as far as possible. For you, this means that you can move around the room completely freely without changing the sound performance of Bang & Olufsen.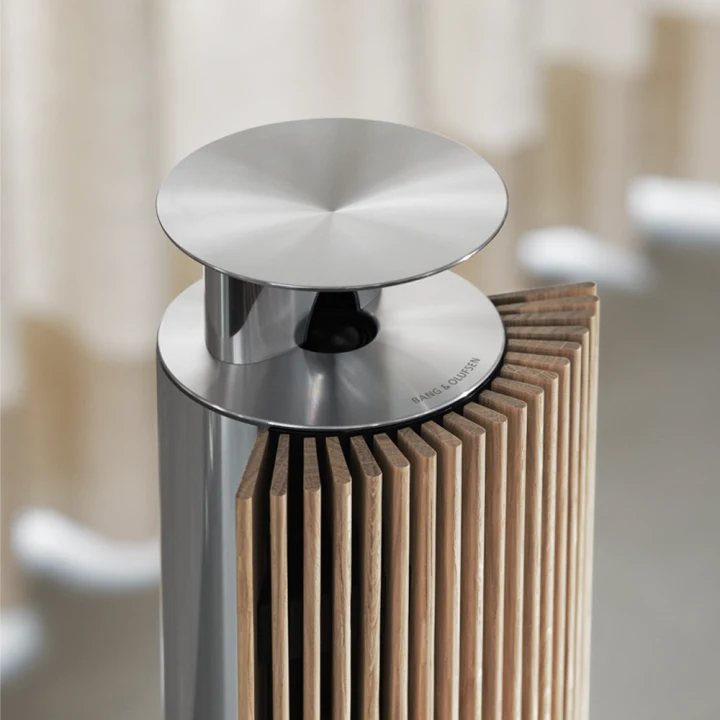 Bang & Olufsen Beolab 28
All-in-one speaker, expertly tuned, for your studio-quality listening experience at home with 1250 watts of pure power and a wide frequency range of 27 Hz to 23 KHz.
With its evolution of Active Loudspeaker Technology, which we pioneered back in 1986, the Beolab 28 sets a whole new standard for classic column design and built-in amplifier formula. Digital Sound Processing (DSP) controls each driver individually, providing exceptional clarity and depth of sound with a system designed for durability.
Intelligent interaction
Smart user interface with proximity sensors and responsive touch controls for instant immersion in music, podcasts or radio stations. Or control the speaker remotely with your phone or the optional Beoremote Halo. Customize your experience with one-touch access to your favorites.
Stereo in Excellence | Beloab28
The Bang & Olufsen Beolab 28 is sleeker, smarter and more surprising than any stereo speaker you've experienced. Place it anywhere in your home, instantly stream anything you want, and immerse yourself in powerful studio-quality sound that automatically adjusts to your space. And all this in a wonderfully elegant form that can be controlled with just one touch.
Personalize your very own Beolab 28
When it comes to adding that certain something to an aesthetic, every single detail counts. So we want to give you the opportunity to make the decisions yourself. Choose your favorite materials and colors to make the Beolab 28 all about you.
Powerful speaker with floor stand
A speaker that consistently exceeds expectations. Fine-tuned to deliver balanced, rich sound whether you're listening to music or watching a movie. Open your heart and ears to exceptional playback of music tracks and movie sounds – made possible by Bang & Olufsen's patented technology.
Beolab 50 | A speaker for every scenario
Building on the groundbreaking work in active loudspeakers that distinguishes Bang & Olufsen, the Beolab 50 is a radical high-performance all-in-one speaker. Our sound engineers have designed a floor-standing stereo speaker that delivers powerful performance every time.
Music tailored to you
With its acoustic lens, the Beolab 50 is able to adapt the sound performance to the audience. When listening alone, the lens contracts to send a direct beam of sound that creates a sweet spot. If you have the house full of guests, the lens opens and allows a room-filling performance.
Bang & Olufsen Beolab 50 – Customized music
Active Room Compensation measures the acoustic behavior of your room and the placement of your speakers. The data is used to create a custom set of filters for your Beolab 50, tailored to your room, so you can enjoy music exactly as the artist intended.
An elegant speaker
With its sleek, tall silhouette and rounded base, the Beolab 50 is a remarkable yet unobtrusive addition to any home. The aluminum surfaces and the wooden slats are staged in a refined and visionary design.
Control according to your wishes
Get everything you need with the Beolab 50, the way you want it. Intuitive, straightforward controls make it easy to access the speaker's most advanced features. Control everything with the Beoremote One BT, the Beoremote Halo or the Bang & Olufsen app.
Bang & Olufsen Beosound Shape
The Beosound Shape is a wall-mounted speaker system for people who are addicted to special design elements. The unique concept of Beosound Shape lies in the three-dimensional, fully customizable tiles that are almost a work of art for your home while hiding behind them speakers that are on par with the usual Bang & Olufsen sound quality.
Discover now the variety of configuration and design your own new speakers from Bang & Olufsen.
The individualization of the Beosound Shape
The configuration of the Beosound Shape is kept so free that it is almost impossible for one idea to resemble the other. In this way, you create a personal one-of-a-kind piece in the blink of an eye. Just talk to one of our customer consultants and we will show you how big the world of customization is that Bang & Olufsen offers its customers.
They start with the size and appearance of the speaker system. Finally, choose the sound performance that can be perfectly matched to your needs.
Create and refine your Beosound Shape
Beosound Shape is a uniquely flexible speaker system that can grow with your needs. Rearrange the tiles, change the color when redecorating, or add more tiles to increase sound performance or acoustic attenuation.
Sound of the Beosound Shape
Be prepared for an innovative and collaborative music experience that brings "the band" right into your home. Beosound Shape delivers concert-like perception of vocals and instruments thanks to the intelligent arrangement of multiple speakers. Book a demonstration to experience this feeling.
Room acoustics
Unfavorable room acoustics make even the most beautiful room uncomfortable. Solve this problem by inserting acoustic damper tiles when designing your Beosound Shape.
How to properly integrate a Beosound Shape
The heart of the system is our Beosound Core connection hub. This is a built-in little box that lets you stream music directly from your phone or tablet via Chromecast built-in, Apple AirPlay 2 and Bluetooth.
All-in-one speaker system
Beosound Shape is more than just a wireless speaker. It is a complete audio system that can be equipped with up to 44 individual speakers and reproduces digital music in nuanced audio quality of high resolution.
Timeless design
The distinctive floor stand and aluminum frame express a unique, minimalist design identity. It's stripped of all non-essentials so you can enjoy the perfect viewing experience.
Bang & Olufsen Beovision Contour | Listen. See. Feel
The sharp contrasts of OLED combined with award-winning sound provide the perfect conditions to immerse yourself in the movies, series and albums that touch you the most. All-in-one home entertainment with an elegant, minimalist design.
Bang & Olufsen Beovision Eclipse –
Art in sound and design
Bang & Olufsen's goal with the Beovision Eclipse was quite clear: a fusion of images so lifelike that it seems almost unreal, and a soundscape so powerful that it feels like it's bursting out of the picture. No easy task, but the result is relatively simple: B&O have developed the ultimate TV set.
KLANG | All-in-One Audio System
The Beovision Eclipse features a 3-channel audio system that provides speech-optimized center channel sound and powerful stereo performance.
DESIGN | Striking appearance
A sharp black glass screen pierces a coherent aluminum casing. A confident and unambiguous design statement of image and sound in perfect harmony.
Classic in concept
The Beovision Harmony pays homage to Bang & Olufsen's proud heritage as a Danish design company, its concept based on the consumer electronics furniture that was fashionable around the middle of the last century. At that time, the TV and radio were hidden behind delicate cabinet doors, which completely merged with the living room.
Bang & Olufsen Beovision Harmony the "Golden Collection".
The elegant trim of the Beovision Harmony takes on a powerfulgolden tone for a serene yet sublime aesthetic.
Flexible installation options
Complement the iconic Beovision Harmony with a new magical element where every movement, from lifting the screen to opening the speaker covers, is precisely orchestrated.
Beovision Harmony | Mehr als "nur" Design
Mit dem neuen Motorbodenstandfuß können Sie den Fernseher auch zu sich hin drehen und ausfahren, um einen unvergleichlichen, an Ihren Raum angepassten Viewing Comfort zu schaffen.Der Motorbodenstandfuß wird in allen Aluminiumausführungen erhältlich sein: Silber, Messing und Bronze passend zu Ihrem aktuellen System.
PICTURE | 8K resolution on OLED screen
True 8K resolution arrives with the new 88-inch OLED screen for an authentic, unparalleled TV experience. Over 33 million self-illuminating pixels ensure perfect blacks, intense colors and fantastic picture quality – even at wide viewing angles. Thanks to AI-based Deep Learning technology, the resolution of all content can be increased to 8K.
The best reason to buy Bang & Olufsen portable speakers!
Take your music with you. Bang & Olufsen portable speakers accompany you from the kitchen to the living room, outside to the balcony and to any other place where a party takes place.With a single battery charge you can enjoy up to 12 hours of wireless music transmission, depending on the speaker.
Bang & Olufsen BeoSound 1 | Sound technology taken further
Music is a social medium, and thanks to Bang & Olufsen's Acoustic Lens Technology, you'll experience an almost spherical sound that's surprisingly loud and nuanced. It doesn't matter where you place it: The speaker system fills every corner of the room with warm, powerfulsounds.
Buy BeoSound 1
Bang & Olufsen BeoSound A1 2nd Gen. | More than music
Experience crystal clear voice quality thanks to the superior hands-free performance. Bluetooth 5.1 and three internal microphones give you the best connections for online meetings and hands-free calls.
Buy BeoSound A1
Bang & Olufsen BeoSound Explore | Rugged elegance
An ultra-durable speaker, the Beosound Explore is made to accompany you wherever you go. Its rugged, rubberized base and aluminum housing make it safe to place on surfaces of all kinds – from muddy campsites to sandy beaches – and its meticulously designed and engineered interior protects against damage from tipping or falling. From the anodized aluminum housing, a development of Plant 5 in Denmark, to the waterproof strap and carabiner, every element of the design combines high performance with durability.
Buy BeoSound Explore
We are happy to advise you personally!
If you have any questions about our products or service, our customer service is always happy to help.