LE02
Timeless impressive performance.
LE02
The middle class. Unique and powerful with wide dynamic range. A mid-sized premium speaker that delivers an immersive Braun sound experience.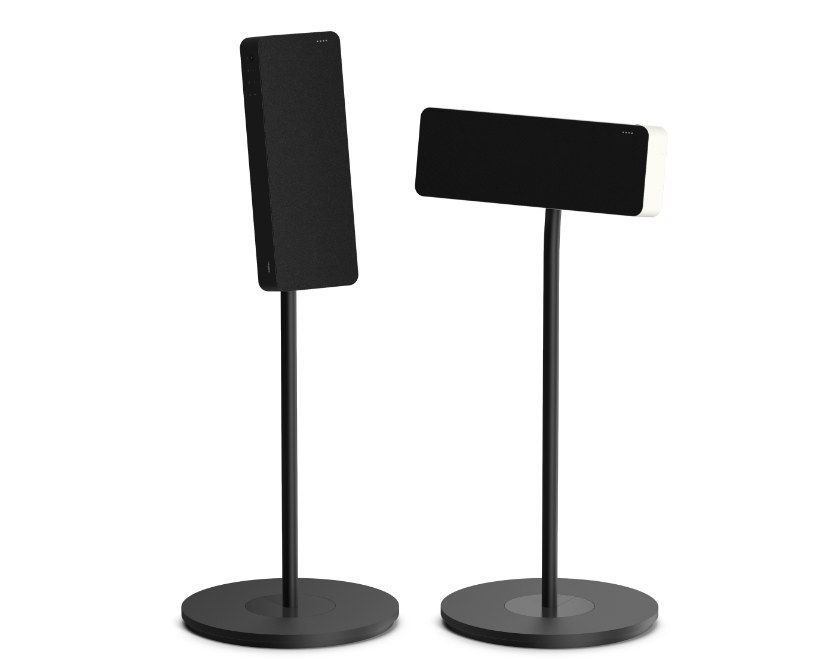 Tone control.
Switch from landscape to portrait mode in the placement equalizer settings to adjust playback to the orientation and location of both speakers.
Perfectly matched.
Experience the unique Braun sound.
Combinable.
Expandable with finely thought-out floor stands that also elegantly solve cable management.
Design.
Dimensions (mm)
speaker: 480 (W) x 171 (H) x 84.5 (D) speaker with table stand: 480 (W) x 210 (H) x 131.5 (D)
Materials
Aluminum speaker cabinet, laser-cut aluminum rear grille, ultrasonically welded acoustic fabric speaker cover, special stainless steel support feet.
Finish
Black, White
Sound.
Modes
LE02 single unit – integrated stereo speakers (portrait), mono (landscape) 2 x stereo coupled LE02 units – left/right channel stereo
Audio technology
1 x dedicated transient 5.5″ aluminum cone high power woofer with NdFe motors 2 x 2.25″ balanced mode radiator drive units 2 x square 6″ x 3.5″ custom matched passive radiators 2 x monolithic HD Class D power amplifiers 32-bit ARM core digital signal processor for high accuracy and low noise rustling Frequency response: 67 Hz – 20500 Hz (-6dB) 96kHz/24-bit HD audio streaming Supported audio formats: HE-AAC, LC-AAC, MP3, Vorbis, WAV (LPCM), FLAC, Opus
Audio inputs
Apple Airplay 2 Chromecast built-in Bluetooth® 4.2 with AAC 3.5 mm Aux-In
Features.
Room placement optimization via audio equalizer Automatic source switching (Wi-Fi, Bluetooth, Aux) Multiroom & stereo pairing: Airplay 2, Chromecast Bass & treble control (via app) Dual-positioned 4-microphone beamfreeing arrays for distance-optimized speech recognition and acoustic echo cancellation Physical privacy mode button to disconnect microphones
Control
Voice control: Google Assistant Physical controls: private mode button, action button, play/pause, forward, back, volume +, volume -, Bluetooth pairing
Network connection
WiFi-Dualband (WiFi 802.11a/b/g/n/ac, 2.4 and 5 GHz) 10/100 Mbps Ethernet port
Package contents.
LE02 speaker 1.5 m power supply Stainless steel table stand with natural finish Silicone feet Quick start guide Safety data sheet
Good to know.
Compatibility
iPhone or iPad with iOS 10.3 and higher Android phone with Android 5.0 and higher Android tablet with Android 6.0 and higher
Warranty
2 years warranty
Electrical performance and environmental compatibility
Operating temperature range: 0°C to 40°C Storage temperature range: 0°C to 40°C Humidity range: 10% to max. 90% (no condensation) Storage humidity range: 10% to max. 90% (no condensation) UV decomposition: No UV decomposition for 3 years Mains voltage: 100V to 240V AC Frequency: 50Hz to 60Hz