Wide range of streaming options for stereo systems and receivers.
Connect the port to your traditional stereo to stream music and more. Control it with the Sonos app or Apple AirPlay 2 and easily expand your sound system to more rooms.
Stream all your favorite music
Enjoy music, podcasts, audiobooks and internet radio with your amplified audio equipment. You can also stream records, CDs, and stored audio files to Sonos speakers in other rooms of your home.
Plug in and play
You can use the input to connect your smartphone or other device to your stereo. Audio input to connect your turntable, CD player, or other audio source to the Sonos system.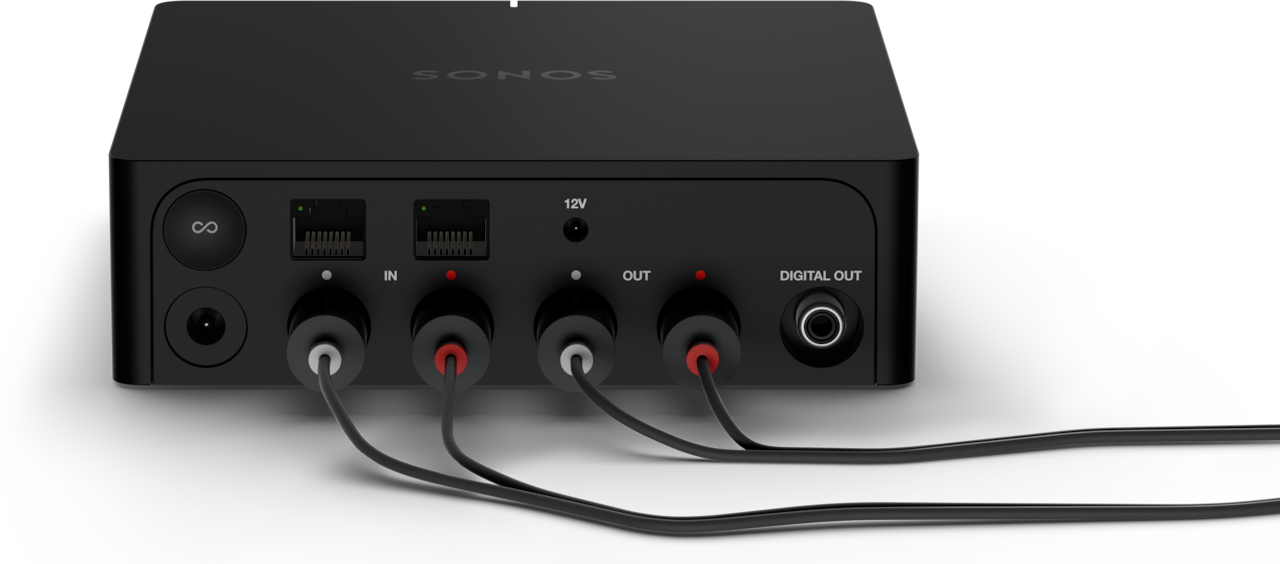 Apple AirPlay 2 on Sonos
Stream music directly from your iPhone or iPad and ask Siri to play Apple Music.
Audio
Audio output via analog (RCA) or digital (coaxial) connectors to connect your amplified audio equipment.The 12 V trigger automatically turns on your stereo or receiver when a signal is sent, so no extra steps or remote control are required.Separate bass and treble control to optimize sound performance. Change the volume of a single room or grouped rooms.
Dimensions
Dimensions: H x W x D: 41 x 138 x 138 mm
Weight: 0.472 kg
Product surface: Matte black
Display: LED for general status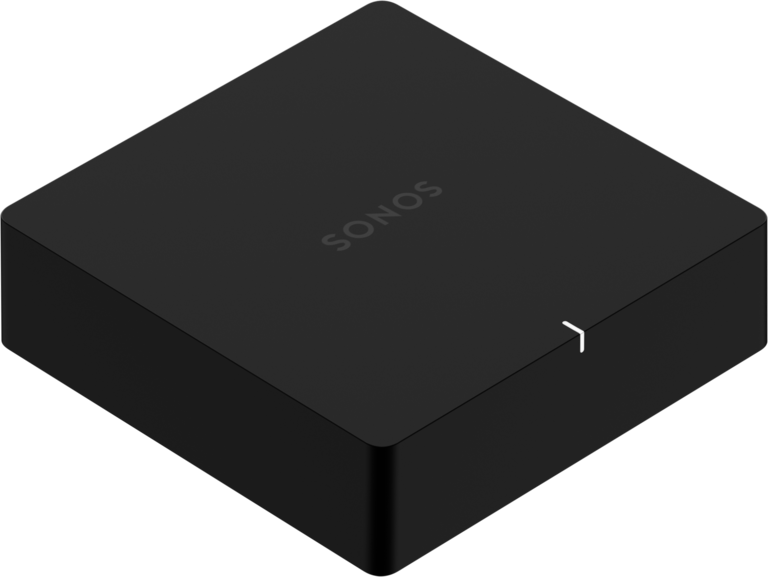 Power and network
Power supply
Self-converting universal power supply 100-240 V, 50-60 Hz, universal input
Ethernet ports
Two 10/100 Mbps Ethernet ports.
Connect the device directly to your router if the WiFi is poor.
WiFi
Connects via WiFi to any 802.11b/g/n router in the 2.4 GHz range.
Apple AirPlay 2
Works with AirPlay 2 on Apple devices iOS 11.4 and later.
System requirements
Amplified audio equipment with analog or digital audio inputs or an audio source with audio output, and broadband Internet.
Product Highlights
Audio input to connect your turntable, CD player, or other audio source to the Sonos system.
Audio output via analog (RCA) or digital (coaxial) connectors to connect your amplified audio equipment.
The 12 V trigger automatically turns on your stereo or receiver when a signal is sent, so no extra steps or remote control are required.
Separate bass and treble control to optimize sound performance. Change the volume of a single room or grouped rooms.
LED indicator for general status
Dimensions – H x W x D: 41 x 138 x 138 mm
Weight: 472 g