Demanding performance. Minimalist design.
4K UHD OLED Android TV
139 cm (55″) TV with Ambilight
Support for popular HDR formats
P5 AI Perfect Picture Engine
Android TV / AI voice control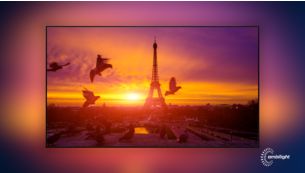 The magic of Ambilight. Only from Philips.
Philips Ambilight makes every moment feel real. Intelligent LEDs that surround the TV react to the actions on the screen and light up so impressively that it captivates you. Experience it just once and you'll see why you no longer want a TV without Ambilight.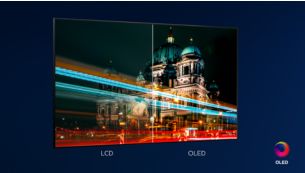 Philips OLED TV. True-to-life images.
With a Philips OLED TV, you can enjoy a uniquely realistic HDR picture through a wider viewing angle, where every scene feels impressively real. Blacks are deeper, colors are more vivid, and details in shadows and highlights are reproduced accurately.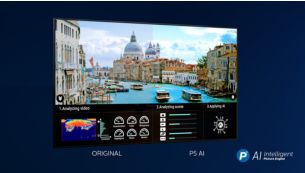 P5 Engine with AI. Every picture – just real.
The Philips P5 Engine with AI enables a picture that looks as real as if you were in the middle of the action. A Deep Learning AI algorithm processes images much like the human brain. No matter what you're watching, you'll get lifelike detail and contrast, powerfulcolors, and smooth motion.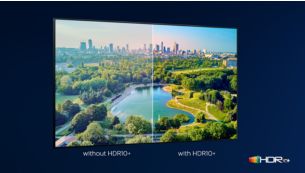 Popular HDR formats. Experience the director's vision.
A Philips 4K UHD OLED+ TV is compatible with all popular HDR formats, including HDR10+ and Dolby Vision. Whether it's a cult series or the latest video game, shadows are darker. Bright surfaces shine. Colors become more vivid. Movements are incredibly fluid.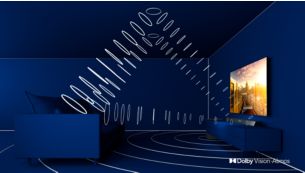 Dolby Vision and Dolby Atmos. Cinema-quality picture and sound.
Supports premium Dolby sound and Dolby video formats. This means that the HDR content you watch looks especially real in picture and sound. Whether you're streaming the latest series or playing a Blu-ray set, contrast, brightness, and color are just as the director intended, and you'll hear clear, detailed, and deep sound.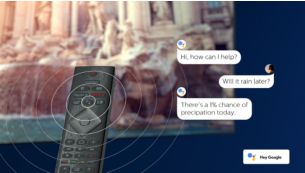 Voice control. Integrated Google Assistant. Supports Alexa.
Control your Philips Android TV with your voice. Whether it's games, Netflix, or content and apps in the Google Play Store, just tell your TV. You can also control any Google Assistant-compatible smart home devices, such as dimmable lights or thermostats, without getting up from the sofa. No more searching for the remote control. Now you can control the Philips Smart TV with your voice via Alexa-enabled devices like Amazon Echo. Turn on your TV, change the channel, switch to your game console and more – with Alexa.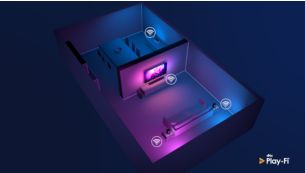 DTS Play-Fi. Multiroom audio.
With DTS Play-Fi on your Philips TV, you can connect to compatible speaker in any room. You have wireless speaker in the kitchen? Listen to the movie while you prepare a snack, or keep up with sports commentary while you all enjoy a drink.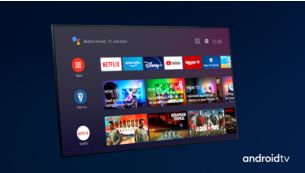 Android TV. Simply clever.
Your Philips Android TV delivers the content you want, when you want it. You can customize the home screen with your favorite apps so you can easily start streaming movies and shows you love. Or pick up where you left off.

Fine Muirhead leather. Ethically sourced.
The Muirhead leather adds a special touch to the selected Philips remote control. This high quality leather is sustainably made in Scotland and has a soft, textured feel and ages besönders beautifully.
Google Play Store, Netflix, Amazon Prime and more.
Customize your Philips Android TV the way you want. If Amazon and YouTube are the focus this week, and Rakuten TV and Netflix next week – no problem. With the clear, intuitive user interface, you can place the content you want, front and center. Pick up where you left off last time in the current series, or check out the new movies.